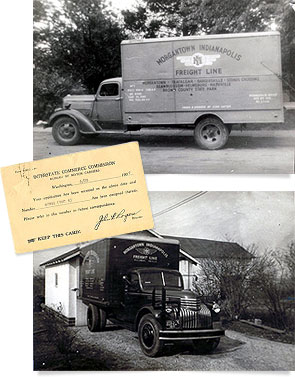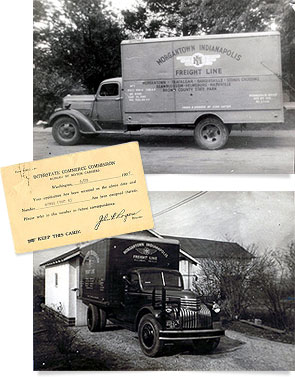 The business was founded in Morgantown, IN by Ezra and Betty Satter on April 23, 1937, operating as Morgantown & Indianapolis Freight Line (M&I) under Interstate Commerce Commission No.67841 and was built with a foundation of service and desire to set high standards in the trucking industry.
M&I was started as a one man, one truck operation serving southern Indiana. Mainly focusing on general commodities and household moving, Ezra Satter was issued one of the first household moving permits in the state, called a "grandfathers permit". The business operated a 50-mile radius South of Indianapolis, mainly serving the 135 corridor including Indianapolis, Stones Crossing, Bargersville, Trafalgar, Morgantown, Helmsburg, Nashville, and Brown County State Park.
Over the next 44 years, main focus stayed with hauling general commodities. Ezra Satter kept the business very small and profitable. He remained very active in the community; he was President of the Morgantown Lions Club, President of the Nineveh-Hensley- Jackson School Corp (Indian Creek Schools) for 14 years, volunteer for the Morgantown Volunteer Fire Department, and on the town board for 8 years.
The office remained in Morgantown but opened an additional facility in Indianapolis. The company had 7 employees and owned 6 tractors, 12 trailers, 2 pick-ups and 1 straight truck. His wife Betty assisted with operations in the office, and in early 1972 their son Jim was brought into the business, starting out driving and maintaining the equipment on weekends. Over the next seven years Jim remained very active in the business moving from driving to the office and eventually taking over operational responsibilities, and became president in 1981 after Ezra's retirement.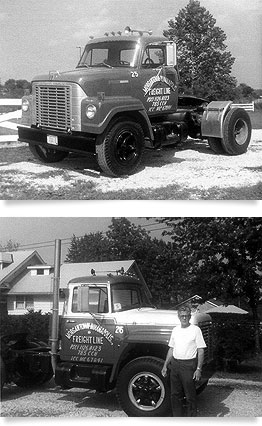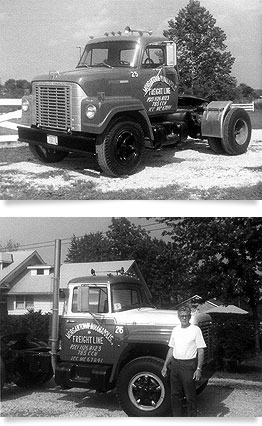 After deregulation in 1981 M&I became a cartage agent for several different carriers, Jim realized the potential in the truckload market and in 1983 Horizon Freight Lines was added as a division of M&I Freight Line to handle area and business growth outside the Indiana area. Mainly concentrating on flatbed and dry van shipments to Indiana, Michigan, Ohio, Illinois, Kentucky, and Tennessee.
In 1989 Jim's son Mike began working in the family business and over the next eight years held several positions with in the company including maintenance, loading dock, driver, and dispatch and eventually joining management in 1997.
Over the next 15 years the company expanded as additional business was established. In 1998 decision was made to close the cartage and flatbed division and concentrate on dry van truckload shipments. With this brought the formation of Horizon Dedicated Services to provide specialized truckload services to fit company specific needs brought on by NAFTA and increased transportation requirements into Mexico and Canada. Mainly concentrating on automotive parts and Just-In-Time (JIT) delivery.
In 2001 the company moved from its location in Indianapolis to Edinburgh, IN to obtain closer Interstate access and offer better service to a major customer based in the Columbus, IN area. The company also opened a regional office in Laredo, TX to offer better communication and service to customers located in Mexico.
In March 2005, Mike Satter became third generation owner of the family business, purchasing the company from his father after his retirement.
Still family owned and operated today Horizon Freight Lines currently has over 200 employees, operates 130 tractors and 400 trailers and is a full service transportation provider offering TL, LTL, regional, dedicated, and expedited services.
The entrepreneurial sprit first began when the company was founded in April of 1937 by Ezra and Betty Satter. Now in its third generation of ownership by the Satter family that entrepreneurial spirit still exists. From its beginning in 1937 with one truck our company has grown to a total service transportation provider offering truckload, dedicated and brokerage services. Horizon Freight Lines, Inc. is still a family owned and operated company and after three generations of experience in the trucking industry we continually strive to be flexible while meeting and surpassing all of our clients' needs and expectations.